Tune in to Legal Aid Matters to listen in as our hosts lead discussions around civil legal service in Chicago, the changes in local and national laws as it pertains to legal aid, and the stories of everyday people whose lives are improved and forever transformed by simple legal interventions.
Episodes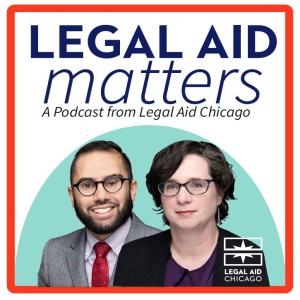 Thursday Dec 05, 2019
Thursday Dec 05, 2019
In acknowledgement of World AIDS Day (December 1), our co-hosts sit down with SOAR paralegal Marissa Korte to discuss Legal Aid Chicago's HIV project and the ways that an HIV diagnosis can impact other legal issues, like housing and employment. Tune in to learn about how legal aid helps people living with HIV and to celebrate the incredible advancements in HIV treatment and prevention over recent years.